Configure Appointment Details
Appointments System
For safety reasons the online booking system has been suspended.
We offer a variety of GP appointments each day some bookable in advance and some same day. We offer a mixture of tepehone consultations and where clinically necessary face to face. Our reception team will navigate your calls to ensure you are offered the most appropriate appointment.
We ask that patients keep us informed of any change in contact details.
Our nurse and health care assistant appointments are available to book up to 12 weeks in advance.
If you are calling for routine appointments, results or general queries please call us after 11am when our phones are less busy.
eConsult
You can click the eConsult link opposite only during the below days & times:
Monday to Thursday 08:00 - 18:30
Fridays 08:00 - 14:00
You MUST have an email account to be able to submit an eConsult form to us.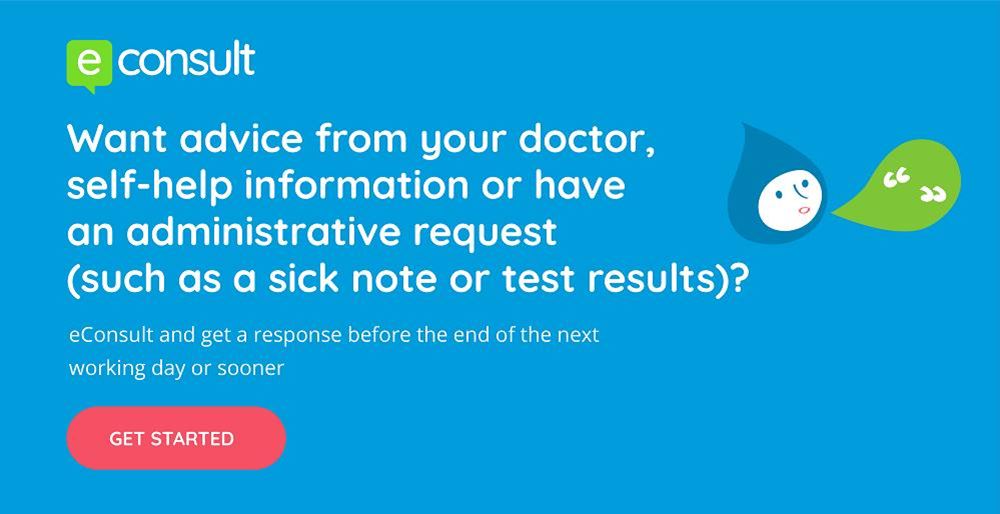 Home Visits
Whilst we encourage our patients to come to the surgery where we have the appropriate equipment and facilities available, we do appreciate this is not always possible. In this respect, if you do need a home visit, patients are requested, where possible, to telephone the surgery before 11am if a home visit is being requested that day.
You should only request a home visit if you are truly housebound or are too ill to visit the practice. Your GP will only visit you at home if they think that your medical condition requires it and will also decide how urgently a visit is needed. Please bear this in mind and be prepared to provide our receptionist with suitable details to enable the doctor to schedule appropriate house calls.
We would request that, apart from the genuinely housebound, all other patients attend the surgery rather than request a home visit because of the extra time home visiting takes. On average four to five patients can be seen in surgery in the time it takes to do a single house call. In addition, the care that can be offered due to the lack of adequate lighting, examination facilities and equipment means that you may not receive as good a service as the doctor may be able to offer if you came to the surgery.
Please note that the doctor may telephone you rather than visit you if this is medically appropriate. Ultimately it is the doctors right to decide whether or not a home visit is appropriate for a particular set of circumstances.
Extended Access Appointments at the Chesterfield Hub
Need an appointment outside normal practice hours?
Extra evening and weekend appointments
All patients at Whittington Moor Surgery can access additional appointments at our Extended Access Hub based at Brimington Surgery, Church Street, Brimington, S43 1JG.
Appointments are available:
Monday to Friday 18.00-20.00
Saturday 8.00-12.00
Sunday 9.00-12.00
There are advanced bookable appointments available and patients can access these by calling us on 01246 456 938 where one of our reception team who will be able to help you. Appointments are available with a GP, practice nurse & other health care professionals.
All Chesterfield practices have signed a sharing agreement to allow secure access to your records through a 'Hub' these can only be viewed at the time of your appointment. This is to enusre your records are kept up to date and allow the clinician a full picture of your health including allergies and medication sensitivities. Information sharing agreements are in place and in order to book an appointment, you must agree to your record being shared, if you require more information on this please ask.
If you have a blood sample taken at a hub appointment this will be dealt with by the doctors at Whittington Moor Surgery
Chaperones
Chaperone Policy Whittington Moor Surgery is committed to providing a safe, comfortable environment where patients and staff can be confident that best practice is being followed at all times and the safety of everyone is of paramount importance. All patients are entitled to have a chaperone present for any consultation, examination or procedure where they feel one is required. This chaperone may be a family member or friend. On occasions you may prefer a formal chaperone to be present, i.e. a trained member of staff. Wherever possible we would ask you to make this request at the time of booking the appointment so that arrangements can be made and your appointment is not delayed in any way. Where this is not possible, we will endeavour to provide a formal chaperone at the time of request. However, on occasions it may be necessary to re-schedule your appointment. Your healthcare professional may also require a chaperone to be present for certain consultations in accordance with our chaperone policy. If you would like to see a copy of our Chaperone Policy or have any questions or comments regarding this, please contact the Practice Manager.
Interpreting Service
We have a telephone translation service available for immediate use when seeing a doctor. Where telephone interpretation is not appropriate a face-to-face service is available, we will need at least 48 hours advance notice for this service.
We now offer a service for the deaf, deaf/blind and hard of hearing. If this service is required, please notify us when booking an appointment so this can be arranged for you - please give us 48 hours notice. This service is run by a Professional Independent Communication Agency. Their services include, British Sign Language Interpreting, Lipspeaking, Deaf/blind Communication and Communication Support.
Cancel an Appointment
It is important that you inform the reception staff as soon as possible if you are unable to attend your appointment, this will allow your appointment to be offered to another patient. If you fail to notify the Practice that you are unable to attend, you will be sent a Did Not Attend text message which goes into your records, if you persist to not attend booked appointments the practice may write to you advising that persistent defaulters may be removed from the list.
Text Reminder Service
We have a texting service which allows you to receive confirmation and reminders about your appointments.
To have this service you will need to register by completing a consent form.
Please remember to update your contact details with us when you change address, telephone numbers and email address.
Teaching
Whittington Moor Surgery is an approved training practice and is committed to providing an environment for learning and personal development. Dr Church and Dr R Taylor are approved GP Trainers with the Chesterfield GP Specialty Training Programme which is linked to the East Midlands Deanery. GP Registrars and Medical Students are a very welcome part of our medical team and we value their contribution to the practice and the stimulus they provide. Being a training practice means we have met the required standards to provide training for future doctors.
Training offers significant benefits to the doctors, staff and patients of the surgery. For the doctors and staff there is the regular influx of young doctors with fresh ideas and renewed enthusiasm for medicine. For the patients the presence of additional doctors who are completing their GP training offers easier access to appointments.
An essential component of training in all medical practice is the use of video and joint consultations. We hope that all our patients will be willing to take part in these educational surgeries to help us all in improving and maintaining our medical and consultation skills. All video recordings are strictly confidential and are used for teaching only. If you feel uncomfortable about this, please inform the receptionist who can arrange for you to be seen alone.
Practice Nurse, District Nurse Students
We also have practice nurse, district nurse students from time to time. If you do not wish to have these students sit in on your consultation with the nurse or health visitor, please let them or a receptionist know in advance and arrangements can be made for you to see the nurse or health visitor alone.
Further Training for other Health Care Professionals
We sometimes have other Health Care Professionals, for example Physiotherapists or Pharmacists sitting in on consultations as part of their on-going career development.